Dexion/RAM Motorsport Porsche Paynter Dixon Carrera Cup Australia driver Dylan O'Keeffe has moved inside the top three of the 2022 championship standings after recording another podium finish in Round 3 at Darwin's Hidden Valley circuit on the weekend.
O'Keeffe qualified third and was running third in Race 1 before running wide at Turn 1 late in the race and falling to fourth.
However, a strong start in Race 2 enabled O'Keeffe to recapture third position, which he held for the remainder of the event to secure third place for the weekend.
"We rolled out of the truck with a quick car in practice and our one-lap speed continued into qualifying; I reckon I was fast enough for pole but I was baulked in the last corner on my best lap," O'Keeffe said.
"The car was quick at the start of Race 1 but it faded towards the end and I made a small mistake where I ran wide, which cost me a position.
"One of our strengths this year has been my race starts and I was able to take the place back in Race 2. There were moments where I felt like I had a slight speed advantage over the leaders but with the cars so evenly-matched, track position is critical and I wasn't able to pass them."
O'Keeffe has now scored seven consecutive top-four race results in Carrera Cup and his consistency is paying dividends; he has vaulted to third in the championship and is just 13 points shy of second place. However, O'Keeffe and his GWR team are eyeing some small improvements to allow them to fight for race victories.
"At the start of the season, we were chasing big improvements while we were learning about the new car, but we've made massive leaps forward, especially between the Grand Prix and Winton," O'Keeffe said.
"We've now reached a stage where we're chasing tiny gains, because the margins at the front of the field are so incredibly tight.
"The consistent top-three finishes are valuable but we've reached the stage where we need to be winning races if we're going to fight for the title."
The next Carrera Cup round is at Townsville, 8-10 July.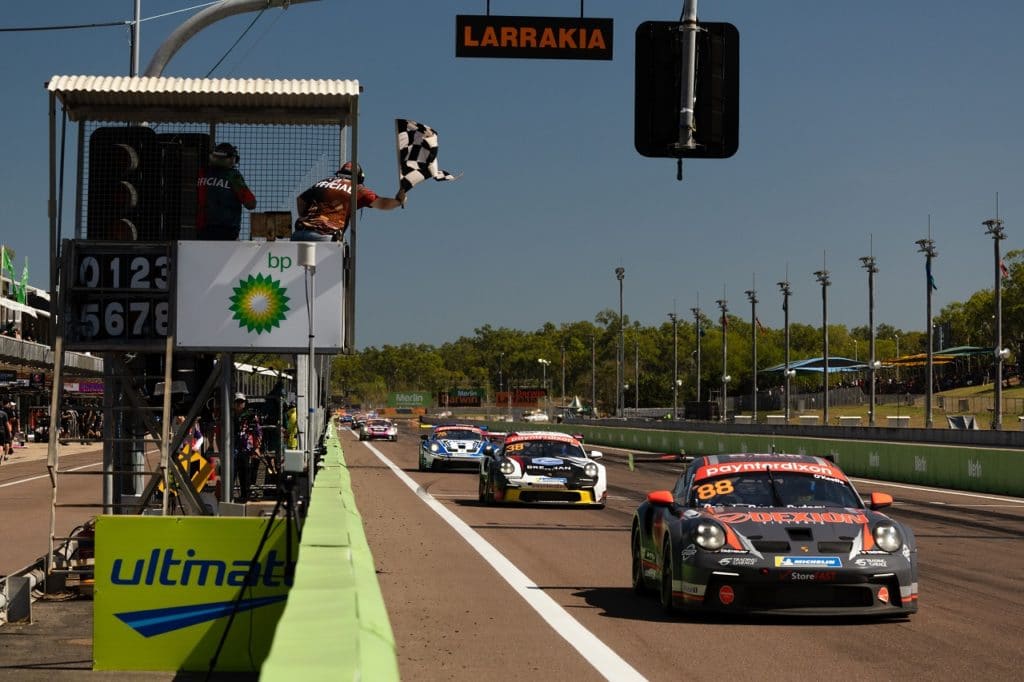 Round Results Summary
Qualifying: 3rd
Race 1: 4th
Race 2: 3rd
Race 3: 3rd
Overall: 3rd
Carrera Cup Championship Points
Harri Jones – 477
David Wall – 363
Dylan O'Keeffe – 350
Dale Wood – 341
Max Vidau – 304
David Russell – 293
Christian Pancione – 262
Luke Youlden – 200
Ryan Suhle – 178
Simon Fallon – 164