Dylan O'Keeffe has chalked up his best Dunlop Super2 Series finish – third place – in a wet and wild race at the Penrite Sandown 500 on Saturday.
O'Keeffe started the race from 12th position, after an error at Turn 9 caused him to run off the circuit on his best qualifying lap. However, a smart decision from O'Keeffe's Garry Rogers Motorsport team just before the race start made all the difference.
"At the start of the race, the conditions were looking like they could have gone either way – some people chose slick tyres, while others went for wets," O'Keeffe said.
"My engineer put me on wets, which turned out to be the right decision."
In a frantic first half of the race, O'Keeffe charged his way to the front of the field, and emerged in third position after a mid-race Safety Car. When the race restarted, he briefly moved up to second before a moment in the second-last corner saw him slipping back to third.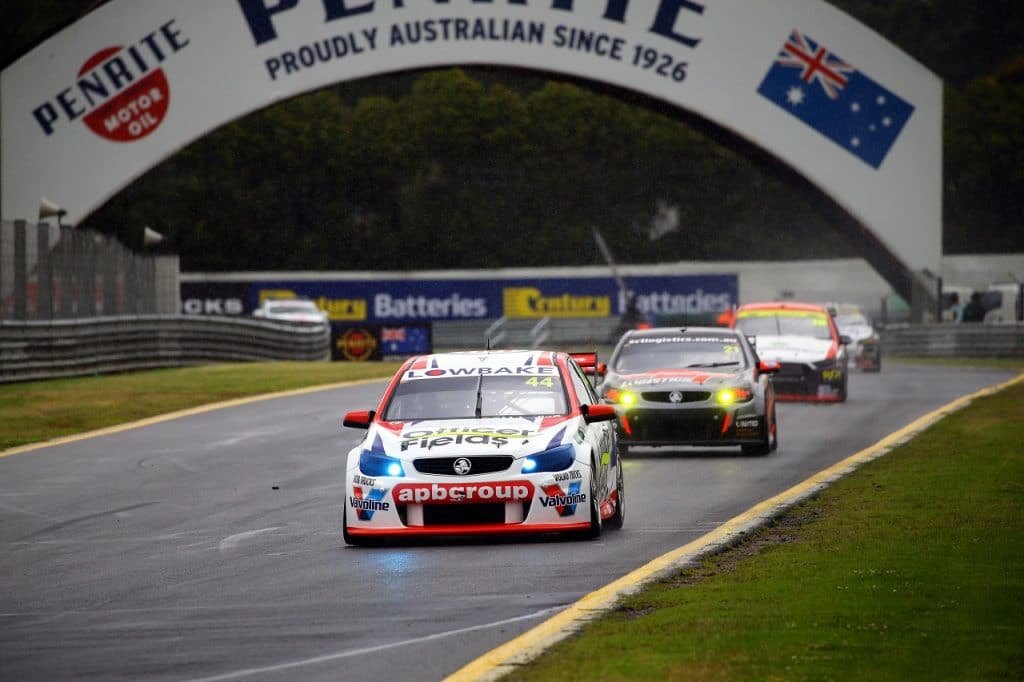 "The car was good in the wet, particularly in terms of its braking and mid-corner speed – the crew did a good job of coming up with a setup to suit the conditions," O'Keeffe said.
"There were lots of incidents, so my main focus was to stay out of trouble and it paid dividends at the end."
After an improved qualifying result of ninth for the Sunday race, O'Keeffe was hopeful of an even better performance, and spent the first 14 laps attacking his rivals before an unfortunate incident ruled him out of proceedings.
"Once again, the car was strong under brakes but I wasn't getting as much drive out of the slower corners, which was making it difficult to overtake," O'Keeffe said.
"I had a run on Zane Goddard heading into the second-last corner, and went down the inside, but I took a bit too much kerb which caused my car to bounce sideways into his. When we went to turn left into the last corner, we locked wheels and it broke my steering."
As a result, O'Keeffe recorded his first DNF of the season, but said it was still a positive weekend overall.
"The Saturday race was obviously a highlight, and full credit has to go to the team for reading the conditions so well," O'Keeffe said.
"While the Sunday result was a disappointment, I'm pleased to have made it so far into my rookie season without a DNF. In the end, it was only a small incident but it had big consequences."
O'Keeffe will be back in action at The Bend next weekend for the final TCR Australia round, followed by the Super2 season finale in Newcastle the following weekend.
Round Results Summary
Qualifying 1: 12th
Race 1: 3rd
Qualifying 2: 9th
Race 2: DNF
Overall: 13th
Super2 Points – After Round 6
1. Bryce Fullwood – 1636
2. Kurt Kostecki – 1271
3. Zane Goddard – 1167
4. Thomas Randle – 1129
5. Tyler Everingham – 973
6. Dylan O'Keeffe – 962
7. Jack Smith – 890
8. Brenton Grove – 888
9. Justin Ruggier – 863
10. Will Brown – 858